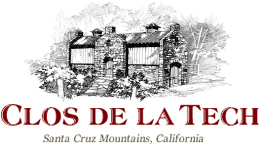 About Clos de la Tech
Centered high in the Santa Cruz Mountains, Clos de la Tech vineyards lie deep in the heart of the famed 'Silicon Valley', the economic backbone of Northern California and technology epicenter of the United States. That's why winery owner T.J. Rodgers, CEO of Cypress Semiconductor, places one of his silicon chips on each bottle representing 'Tech' and the careful balance of the Old World and the New World.
All three of Clos de la Tech's proprietary vineyards are entities unto themselves, enclosed by natural barriers such as cliffs and forests or by walls made of stone pulled from the vineyard. To us, 'Clos' represents our respect for the old world traditions that underpin all we do.