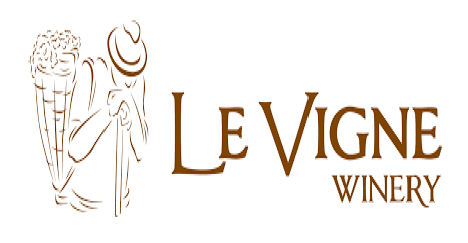 Region:
Paso Robles, CA
About Le Vigne:
The Filippini family history in the Paso Robles region began in the early 1960's when winery owner, Sylvia Filippini's, family purchased the property where Le Vigne winery now stands. Hay and cattle were the main commodities until 1982, when the first grapevines were planted. Early on, Chardonnay and Cabernet Sauvignon were planted to supplement the growing demand of other wine growing regions like Napa and Sonoma. The grapes grown on the estate were highly regarded by producers and were in high demand. In 1988 Merlot, Syrah, Sangiovese, Corvina, Cabernet Franc, Petite Verdot, and Sauvignon Blanc were planted. Recognizing the quality, the family began making wine from the estate fruit in 1989. In 1995 they built a state of the art winery and planted small blocks of Grenache, Petite Sirah, Malbec and Tannat.
Le Vigne is the culmination of a love of food, wine and family shared by owners Walter and Sylvia. Walter spent his younger years at his parent's home in the lakeside town of Como, Italy and spent many summers working with his grandparents on their vineyard in the agriculturally rich region of Valtellina.  As Walter grew, he developed a passion for cooking and the kitchen – an important facet of Italian life. By the age of 15, Walter entered the Culinary Institute in San Pellegrino, Italy. During the summers he worked at the Excelsior Palace Hotel in Venice and the Grande Albergo Villa d'Este in Como. He specialized in "Gastronomia," the artful presentation of cold food dishes. Walter is very talented in this field, and won Italy's National Chef's competition for a delectable display of pheasant pate in 1981. Shortly thereafter, Walter moved to New York to work with Dino de Laurentiis at his DDL Food Show.  In 1986 Walter moved to Beverly Hills, to run the local DDL Food Show.
Terry Culton is one of Paso Robles top winemakers with an extensive resume in winemaking; working with some of West Coasts top wineries from Paso Robles Peachy Canyon, Adelaida Cellars, and Wildhorse to Calera Wine Company, Willamette Valley Vineyards, and Edmeades. Terry has a broad range of winemaking prowess with multiple grape varieties. He has a proven track record of making sought after wines with consistent 90+ ratings from every major publication and has been called a "Top Flight" winemaker by notable writer Robert Parker of The Wine Advocate.